Heather is scheduled to make an appearance at various industry events over the next few months: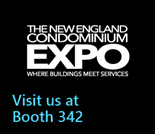 1) Next Tuesday, May 20, she'll be exhibiting in Booth 342 at the New England Condo & Apartment Expo at Boston's Seaport World Trade Center from 10am – 4:30pm. The leading real estate trade show in New England, this event features board members, trustees, property managers, apartment building owners, and building service companies.
2) On Friday, June 20, Heather will be a member of the discussion panel of professionals for a Q&A session at the Cape Cod Condo Forum & Expo from 4-7pm. This is an opportunity for association board members, homeowners, and managers to address questions about the operation and management of their communities with industry professionals. Click here for event registration and more information.
3) On Saturday, September 13, Heather will be exhibiting and speaking at the CAI New England Annual Conference & Expo in Danvers. Registration information and additional details are available here.
Additionally, our office will be getting more involved in supporting the local nonprofits that we work with this year by making sure to announce their events on our social media channels one week before they occur. This will allow our clients to receive not only current and relevant tax expertise from our social media outlets, but also lots of great info about what is going on in town so they can enjoy the amazing local activities available to them.If you're not already following us on Facebook or Twitter, make sure to do so now so you don't miss out!